ABOUT US
We are the Hodgson family – Steve & Amy, plus our 4 children
We live here at Landrends along with Samson, the Golden Doodle, George the cat and Percy & Wilbur the Kune Kune pigs. We fell in love with Landrends in June 2014, after a long search for our perfect home & holiday accommodation in this idyllic part of the country.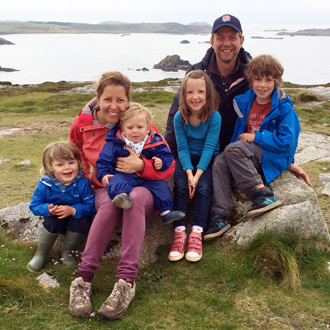 The view was the first thing to capture our hearts, followed closely by the magic of Cornwall, with all it has to offer.
We love having the opportunity to share all of this with our guests, and our aim is for every visitor here to feel valued, and to take away wonderful memories of their holiday.
Please contact us in advance if there is anything we can help you with, or any special requirements you have. From bunting to bumbo seats, we will try our utmost to give you the best holiday we can.
Although we live on site we encourage guests to text any problems or questions whilst on holiday, rather than knocking on the door. We will always do our best to help.
We also greatly appreciate your feedback, so that we can continually try to improve the quality of our holidays.
We hope you will come and experience Landrends for yourself and we look forward to welcoming you.
Steve & Amy
x